Wind speed gauges, also commonly referred to as anemometers, are tools used to measure the speed, direction, and strength of gases, including air. They have many uses: they help monitor and predict weather patterns, and are useful to determine the development of storms.
But measuring wind speed can also be helpful in your everyday life. Let's say you want to fly a drone: you need to make sure the wind isn't too strong for the drone. Alternatively, if you are a fan of kite flying, you want to make sure there's enough wind to make the activity enjoyable.
Another application is when you plan to spray pesticides: you don't want the wind to make your spraying ineffective, or worse, dangerous for those who live around you.
You can find anemometers online for many price points, but how do you establish which one is the best? Yes, the most expensive one will always be the "best" from a pure horsepower standpoint, but is it the best for you? Most likely not.
In this article, I will show you the best anemometers, and tell you which ones work best in what scenarios.
Quick Summary–These Are the Overall Best!
BTMETER BT-100: this anemometer offers the best bang for your buck, with good accuracy and usability at an affordable price.
Netatmo Smart Anemometer: great if you don't need to move your anemometer around. It offers all the benefits of a typical sonic anemometer for a very good price.
AIOMEST Bluetooth Digital Anemometer: a bit more expensive compared to other anemometers in the same category because of its Bluetooth capabilities, but it makes life so much easier because of it.
What Makes an Anemometer Good?
Before getting into the best anemometers, I must tell you how I picked the objects in this list. What's the point of giving you a list, if you don't know how I compiled it?
I based my evaluation on many factors. Not all of these held the same weight, with some being more important than others, but I took all of them into consideration. I'm being as comprehensive as possible, as to ensure there's an anemometer for everyone.
You have your own needs, and might not care about some factors in this list. Ultimately, I can't know what everyone needs, so I have to keep it as general as possible.
Type of Anemometer
There are 5 different types of anemometer:
Cup anemometer
The most common type of anemometer, it is made of cups that rotate based on wind's strength, and have a sensor that translates their rotation speed to mph. They are popular because they are rock solid and reliable, even though they aren't very good for low wind speeds.
Another popular type of anemometer, it has a turbine-like mechanism that lets it measure speed. Compared to cup anemometers, they offer similar reliability and can handle higher wind speeds. However, they are clunkier to use, as the turbine has to be parallel to the wind to ensure accurate measurements.
Hot Wire anemometer
Hot wire anemometers, as the name suggests, use a hot wire to measure wind speed. The wire is heated by electricity, and the energy required to keep its temperature constant while in the wind is used to measure speed. It is extremely accurate and can detect even very slow wind, but it's not suited for environments where big particles (like sand) could come in contact with it.
Pilot Tube anemometer
This type of tool measures wind speed by measuring the difference in pressure between the static tube and the incoming air. This type of anemometer offers accurate readings and works well even in hot climates, but it must be pointed towards the wind's source, and it doesn't work well in areas with low air velocity.
Sonic anemometer
These are by far the most advanced types of anemometer. They use ultrasonic waves to measure the wind velocity and speed. They are extremely durable, but they are also significantly more expensive than all other types of anemometers.
So, which one is the best for you? Vane anemometers are by far the most common, and you'll see it from our list as well. They are great for general use, thanks to their portability and decent accuracy, but they aren't always the best: they aren't great for static use, or for constantly measuring wind over time, since wind's direction can suddenly change, and then you'd have to recalibrate them.
If you need to measure wind's speed in a static place, your best bets are cup and sonic anemometers, with the latter offering the greater accuracy and durability, but being slightly more expensive on average.
Accuracy
Since you are here, I assume you want to measure wind's speed in specific locations for whatever reason. In that case, accuracy is your top priority, because an inaccurate anemometer defeats the point, doesn't it?
Let's say you want to fly your drone; you get an inaccurate measurement and decide it is safe to do so. Except your drone crashes into your neighbor's roof because the wind was way stronger than expected by the tool.
See the issue with inaccurate anemometers?
You not only risk wasting money by getting incorrect measurements, you also risk causing actual damage to things and other people. Do not cheap out on accuracy, it is crucial to get a good functioning anemometer.
Every anemometer has an accuracy rating, a score determining how accurate are its readings. You want this value to be ±5% or higher.
Good Response Time and Wind Speed
Wind can be very speedy, and you don't want your anemometer to go crazy for wind speeds above a certain threshold. As a general rule of thumb, you want your instrument to measure speeds up to 100mph, as there is where most good anemometers thread.
As for response times, there is no specific rule that tells us if the anemometer is good, just know that the lower the better. Wind speed can vary wildly in a few seconds, and depending on your needs, you might need a specific wind speed to do your thing.
Portability
Depending on your needs, you might want a portable anemometer. We can use portable anemometers in many places to measure wind speed, but they are also not as accurate as static ones.
Overall Build Quality
This goes hand-in-hand with accuracy. The tool's build quality plays a role into the anemometer's accuracy and also influences other factors. A poor build quality means your tool will be prone to breaking randomly while using it. That sucks.
You can't really get a good estimate for build quality when you shop online, but you can read other people's reviews and get a good idea of it. Buying the cheapest product on the market won't get you anywhere, you need to be fine with paying a little more to get your hands on a quality product.
Size and Design
There are many anemometers, and each has their own size / design. You want the vane where wind passes through to be as big as possible, as that ensures the best accuracy when determining wind speed.
There are both portable and static anemometers, so it's up to you to establish which one best fits your needs.
Good Value for Money
The crux of every shopper, getting their money's worth and then some. While the highest-priced tools are usually the best ones, they might either:
Not fit your budget
Offer features you don't need
Which is why I had to consider prices into my list. There's no such thing as the best anemometer, there is the best anemometer for you, and that's exactly what I'm going to help you with.
The 7 Best Wind Gauges
I included anemometers of various types in this list, to ensure you will find the right one for your need. There are no pilot tube anemometers, as I couldn't find any with satisfying characteristics at a decent price.
Luckily, pilot tube anemometers are also the most specific type of anemometers, and you only get one of these when there's no other anemometer available to measure the wind speed, which is admittedly a very specific situation. Thus, lacking this type of tool on this list isn't an issue.
BTMETER BT-100: Best Affordable Anemometer
Type: Vane anemometer
Accuracy of Wind Speed measurement: ±5% of readings
Wind Speed Range: 67 ~ 67 miles per hour
The BTMETER BT-100 is easily the best affordable anemometer. With its small price tag of $27.99, you may think that it's a low-quality product, but this is not the case.
This tool is a superb choice for any hobbyist looking for a powerful, yet inexpensive tool. It can measure wind speed with air temperatures going from -10°C to 45°C and has an accuracy of +- 2°C when measuring the temperature.
The build quality is pretty good, the tool feels sturdy and reliable, and it has great technical features considering the price. Plus, it's reasonably small, meaning you can easily bring it with you anywhere you wish to measure the wind.
As long as you don't need to do anything professional, you can't go wrong by buying this instrument.
But don't just take my words for it. Read the over 1500 reviews on Amazon, most of which have high praise for the gear. Here's a link so you can check for yourself.
If you are looking for the best affordable anemometer, buy it right now.
Proster Handheld Anemometer: Best cheapest Anemometer
Type: Vane anemometer
Accuracy of Wind Speed measurement: ±5% of readings
Wind Speed Range: 67 ~ 67 miles per hour
Another great anemometer for hobbyists, the proster handheld is very cheap, but it still offers impressive performance.
The key selling point of this tool is how small the vane is. I said earlier that bigger vanes are better, because they provide more accurate measurements. That is true, however, smaller vanes mean you can more easily measure wind speed and air temperature in certain situations, like your car's air conditioning system.
The Proster Handheld still offers reasonable +-5% accuracy rate, and up to 65 mph wind speeds, so it's still a capable device. It's also the cheapest on this list and is great for anyone who needs to measure wind speeds for their hobbies.
Again, if you don't trust me, which is totally fair, there are over 2 thousand reviews of the device on Amazon, here's the link.
If you're strapped for cash and are looking for a small anemometer, this one takes the crown. Shop for it now.
Davis Instruments Anemometer: The Most Accurate Anemometer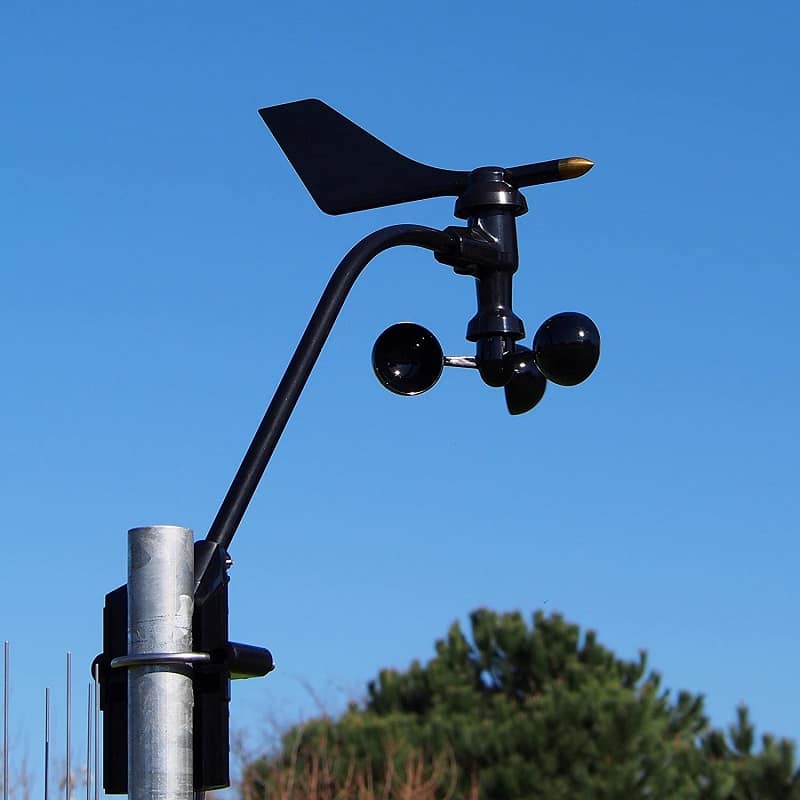 Type: Cup anemometer
Accuracy of Wind Speed measurement: ±2 mph or ±5% of readings, whichever is higher
Wind Speed Range: Up to 135 miles per hour at 140′, up to 100 miles per hour at 240′
If accuracy is what you're after, you can't miss out on this tool by Davis Instruments. It is significantly more expensive than the previous two on this list, but for an excellent reason: it is a fully fledged weather station.
So, what makes this Anemometer so good? Well, it's a cup anemometer, which makes it very accurate, and it has a plethora of features that other tools on this list wish they had.
However, it's a bit more specific than most other anemometers, because it's not portable at all. The entire structure is big, basically a huge antenna you place on a roof. It's best used for laboratories or weather stations.
The price is also quite steep, but it's absolutely worth it. Depending on your budget and needs, this can be the best wind gauge for you.
Do you need precise measurements of wind speed? If you don't need to move your anemometer around, this tool is an excellent choice.
Fieldpiece STA2: Great Little Hot Wire Anemometer
Type: Hot wire anemometer
Accuracy of Wind Speed measurement: ±5% of readings
Wind Speed Range: unavailable
Excellent anemometer that works that made the list because it works great in more extreme conditions compared to the other tools on this list. Specifically, you can use the Fieldpiece STA2 with ai temperatures that range between -20°C and 60°C.
However, there are some flaws with it. The first one is that there's no indication of the maximum wind speed it can measure. This isn't as big of an issue per se, as hot-wire anemometers can easily measure powerful winds with no issue, being more specific can't hurt. There are people who are looking for specific characteristics and being transparent about what your product can do is welcome.
The other issue is the price: $160 is quite costly, but considering it can work under extreme conditions and with strong winds, it is worth it, should you need a slightly more professional tool.
Holdpeak 866B: Great Bang for Your Buck
Type: Vane anemometer
Accuracy of Wind Speed measurement: ±5% of readings
Wind Speed Range: 67 ~ 67 miles per hour
The Holdpeak 866B is very similar to the BTMETER B-100. Both are vane anemometers, both can measure wind speed up to 65 miles per hour, and both have the same accuracy rate of wind speed, ±5%.
So why is it lower on the list?
The reason is simple: the company does not specify the temperatures it works at, which is quite weird, since it's an important factor to consider when purchasing an anemometer. You are using it to measure wind speed after all, but what good is it if the air is too hot or cold for the tool?
However, there are over 2500 reviews on Amazon for this product, most of which are very positive, so the lack of information didn't stop many people from buying the anemometer.
Netatmo Smart Anemometer: Affordable Sonic Anemometer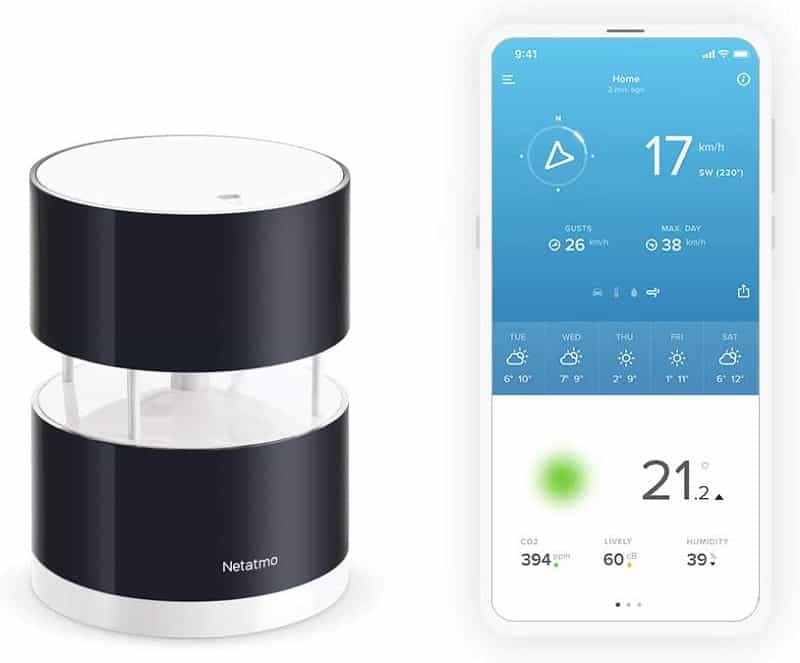 Type: Sonic anemometer
Accuracy of Wind Speed measurement: ±5% of readings
Wind Speed Range: unavailable
Considering it's a sonic anemometer, the price of this device is crazy: only $109.99. Sonic anemometers are extremely precise and durable since they don't have any moving parts.
Netatmo created a product that's hard to beat for this price point: it's an anemometer you can connect to your smartphone, and through the app shows you everything you need to know about the wind. Another perk of this integration is that you can receive notifications on your phone in event of high winds.
Additionally, it will keep the data of measured wind speeds over time, which can help you better understand how wind behaves in your location.
There is also the possibility to buy the full weather station that includes the anemometer if you prefer, but it's quite expensive.
This anemometer is the best purchase if you need to measure wind speed in a specific area over time. It's not portable by any means, and it's also not that cheap, but it is an excellent product that does exactly what it says.
AIOMEST Bluetooth Digital Anemometer: Great Anemometer with Bluetooth Support
Type: Vane anemometer
Accuracy of Wind Speed measurement: ±5% of readings
Wind Speed Range: 67 ~ 67 miles per hour
You may wonder if it was necessary to put a 3rd vane anemometer on this list. The answer is yes, and there's an excellent reason for this: the possibility to connect it to your phone via bluetooth.
Having a dedicated app for your anemometer makes your job so much easier. Not only the typical LCD screens on most vane anemometers can be hard to read, but also with an app you can paint a better picture of the wind situation in an area.
You can see the data, save it, and compare it between different places or over timer.
This anemometer is slightly more expensive than other vane anemometers on the list, but the possibility to connect it via bluetooth to your phone is worth the price increase.
For example, you can install it on a tripod and measure wind speed without having to be next to it, which can be useful especially in windy days, when staying outside in the cold is unappealing.
F.A.Q.
What are the uses of wind speed gauges?
For hobbyists, wind gauges are useful to measure wind speed before certain activities, such as hiking or windsurfing. It's a great way to establish how safe it is to conduct these activities.
For professionals, we can use wind speed before spraying pesticides in a field, because the wind risks spreading the pesticide outside of crops and damaging other people who might get in contact with the pesticide. Professional wind speed gauges are also used to predict the weather.
When does the wind become dangerous?
Wind gets dangerous at around 30 miles per hour. This value is when tree branches might start falling, and unsafe objects to fly around. If it gets even faster, expect trees to risk falling down, and being unable to drive certain vehicles safely.
What is a good accuracy rate of a wind speed gauges?
Anything from ±5% of readings and below. Don't bother with more inaccurate devices, they are not worth your time.
Conclusion
These are the best anemometers, we can use them in many situations, and all offer accurate readings for a fair price. I tried to include as many tools as possible, so that anyone could find the perfect one for their needs.
Naturally, there are also significantly more expensive solutions for just about any type of anemometer, but realistically they won't be necessary for the vast majority of people. This list is about general use of anemometers. You know your needs better than me.
These products are well-made and offer accurate readings, which is what's truly important when measuring wind speed. Measuring wind speed is a necessity before doing many activities, such as flying drones, spraying pesticides, or going windsurfing.
Measuring wind speed is essential in many fields, as it ensures you are keeping yourself and others safe, and it can also help you with your hobbies. Also, it can be a matter of life and death to understand when strong winds are gathering up in your area.
What are you waiting for? Purchase the best anemometers today and enjoy their many benefits!